Fastbraces
Topics:
What are Fastbraces®?
Fastbraces® Technology is a proven orthodontic system that straightens most teeth in minimal time. Average treatment times with Fastbraces® range between 3 months to one year. So how do Fastbraces® move your teeth so quickly? Fastbraces® uses innovative, triangular brackets which move teeth roots and teeth crowns simultaneously. By contrast, treatment times with traditional braces take an average of 2 to 3 years to straighten all of your teeth.

What are the benefits of Fastbraces®?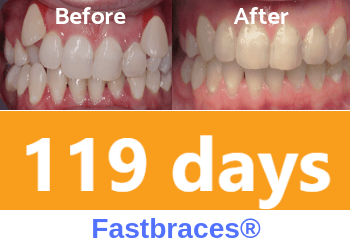 Shorter treatment times
Less painful
Fewer number of appointments
Fastbraces® is more affordable than traditional braces
Ability to treat the majority of orthodontic cases
Are Fastbraces® safe?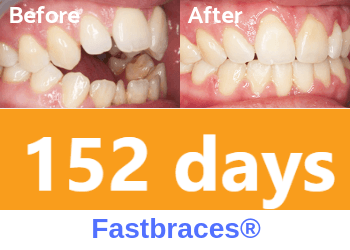 Absolutely! Fastbraces® Technology has been around for over 20 years now and Fastbraces® doctors have treated thousands of patients successfully worldwide. There are no more risks of tooth or root damage with Fastbraces® as there are with traditional braces. Fastbraces® Technology is proven to be safe, effective and less painful than traditional braces. Additionally, because
Fastbraces® shortens times, that there is a lesser chance of developing tooth decay and cavities.

Do Fastbraces® hurt?
Whether you choose traditional braces, Fastbraces® or Invisalign®, there is going to be some discomfort for the first few days whenever your teeth start to move. However, research has shown that Fastbraces® causes less discomfort than traditional braces. Plus, shorter treatment times means less pain, less time in the dentist chair and more time to enjoy your life! To learn more, schedule your complimentary consultation and see how fast you can have straight teeth.
Does Fastbraces® have a clear option?
For a nominal upgrade fee, Fastbraces® Clear offers ceramic brackets in place of metal ones. Ceramic brackets blend in seamlessly with your teeth to make them nearly invisible and more aesthetics. null
Am I a candidate for Fastbraces®?
Chances are that you probably are. Fastbraces® is designed to work on adults, teenagers and children. The majority of people qualify for treatment with Fastbraces® Technology. Plus, Fastbraces® Technology moves both your front and back teeth. Of course, there are still cases which require an orthodontist referral and don't qualify for Fastbraces®. We will determine if you are a good candidate for Fastbraces® during your consultation. If you qualify, you can get started with your treatment the same day!
If you have question about Fastbraces® or want to book a consultation, call us at (949) 481-2540 or book online today. To learn about different orthodontic treatments, click on the following links: