Dr. Ali John Jazayeri
General, Cosmetic & Implant Dentist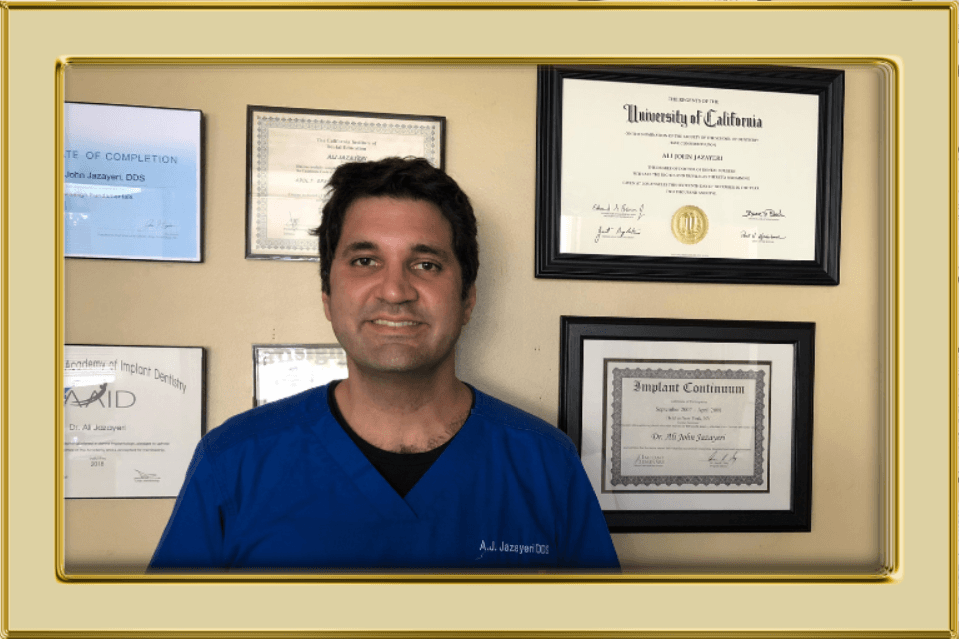 Dr. Jazayeri, known to his patients as Dr. J, has been practicing dentistry for 15 years. His primary focus is on cosmetic rejuvenation, dental implants, and general dental care. Dr. Jazayeri is a native of Orange County, CA. He received his Bachelor of Biological Sciences from University of California, Irvine. He went on to receive his dental degree from the prestigious University of California, Los Angeles (UCLA). He started off his dentistry career in New York, NY where he gained plenty of experience in cosmetic and implant dentistry. He returned back to his native Orange County in 2014 and has been helping patients ever since. Dr. Jazayeri has plenty of additional training from prestigious schools and programs, such as:
St. Barnabas Hospital (2005-06): Sedation dentistry and critical care hospital residency
NYU Implant Seminars (2008-2009): Training in surgical dental implant placement and restoration
Invisalign (2014): Clear teeth aligner training
CA Oral Conscious Sedation (2018): Sedation "sleep" dentistry
Dr. Jazayeri specializes in handling complex dentistry. He has treated hundreds of full mouth reconstruction cases throughout his career. Additionally, he has placed about 3,500 dental implants during this time. Schedule your consult with us at our San Clemente, Orange County dental office today to have all of your questions answered.
What sets us apart?
Dr. Jazayeri understands that being a good dentist takes more than just knowledge and hand-skills. His belief is that being a good dentist is about communicating with his patients, listening to their needs, and making them feel welcome. As such, he takes his time to get to know each and every one of his patients. This allows him to determine the best course of treatment for every one's needs.
Join our dental family
We understand that every patient is unique. What works for you may not work for the next patient. For instance, one patient may want to know exactly what's happening to his or her mouth. Another one simply wants to relax and listen to music throughout his or her treatment. One patient may want to just eliminate pain, while the next one wants to fix everything that's wrong with his or her mouth. We take the time to talk to you and get to know you. This way, we can customize a treatment style to suit your demands and make you comfortable and relaxed during your treatment.
Why choose us for your dental care?
Our dentist, Dr. Jazayeri, has the experience, knowledge, skill, and attention to detail required to treatment complex dental cases. He has been a practicing cosmetic and implant dentist since graduating UCLA dental school in 2005. During this time, he has fixed thousands of smiles and helped countless patients overcome their fear and anxiety of going to the dentist. His comprehensive approach ensures that all of your dental needs are being attended to. He takes a holistic approach to dentistry and eliminates infection and toxic material from your mouth.
Areas of expertise
Dental Implants
Partial dentures and full dentures
Implant and denture hybrids
Cosmetic dentistry
Porcelain veneers
Full mouth reconstruction
All-on-four dental implants
Sedation dentistry
Sleep dentistry
Tooth extraction, including baby teeth and wisdom teeth
Holistic dentistry, including the use of non-metal restorative options
Our approach
Dr. Jazayeri's goal is to perform comprehensive oral rehabilitation. Dr. Jazayeri prides himself on delivering quality dental care with utmost precision and minimal discomfort. His patients find it extremely convenient to receive all of their dental treatment under one roof. His broad scope of dental skills enable him to offer comprehensive care without having to make compromises.
Whether you need an exam, crown, dental implant, or a smile makeover, consider consulting with Dr. Jazayeri. Consultations and second opinions are always complimentary. Come on in and greet us if you're in the neighborhood. Give us a call today at (949)481-2540 or book your next dental appointment online. Come meet us and see why we're among the best dental offices in San Clemente, Orange County!