Table of Content:
Why is it important to care for your dental implants?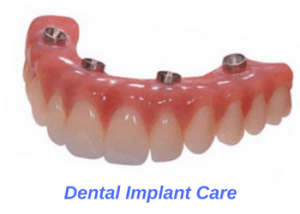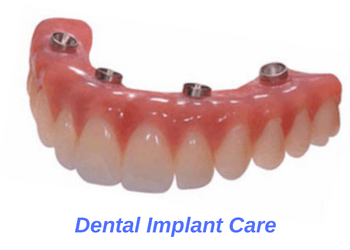 Dental implant don't develop tooth cavities the way your natural teeth do. This is because dental implants are made entirely from a metal-based foreign object. So why is it important to clean your dental implants? Cleaning dental implants removes harmful bacteria that cause bone loss around the implant. Excessive bone loss is detrimental to your implant health. It can expose the implant threads, make your implant become loose, or cause implant fail. By properly cleaning your dental implants, you remove harmful bacteria, prevent bone loss, and keep your dental implants healthy and sound for years to come.
How should you clean your dental implants?
Cleaning dental implants is very similar to cleaning your natural teeth. Simply brush and floss your dental implant as you would clean any other tooth in your mouth. You may notice that cleaning dental implants is a bit more difficult than cleaning natural teeth. This is mostly due to bone loss which occurs surrounding all dental implants. Many patients find using a Waterpik helpful for cleaning their dental implants. If you're having trouble cleaning your dental implants, consult with your dentist for further advice.
How do you clean all-on-4 teeth?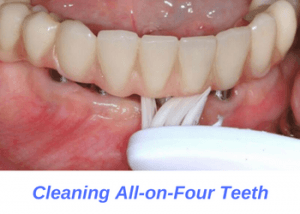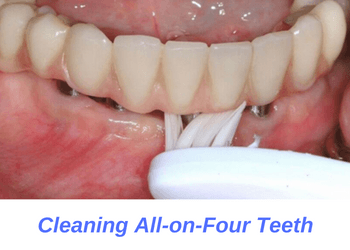 All-on-four teeth is a complete set of teeth supported by four dental implants. Patients with all-on-four teeth have no more natural teeth left in their respective arch. Cleaning all-on-four teeth can be a challenge since you can't remove thee teeth from your mouth. It's not a bad idea to continue brushing your gums to stimulate blood flow in the region. Also, brushing helps keep your synthetic teeth nice and clean. We also recommend supplementing a Waterpik to your hygiene routine. Using a Waterpik helps dislodge large food particles trapped underneath your all-on-four teeth. Finally, consider removing your all-on-four teeth and having them cleaned professionally by your dentist annually.
How do you clean implant-supported dentures?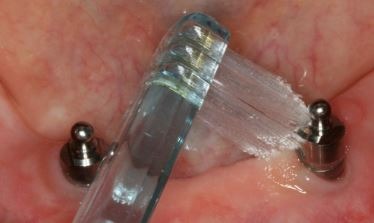 Implant-supported dentures, known as overdentures or snap-on-dentures, are dentures which attach to a few dental implants. Overdentures are easier to clean since the dentures can be removed from your mouth. Be sure to take your dentures out of your mouth every night and clean them. Use a soft toothbrush with liquid soap to remove debris from your dentures. Feel free to use a denture cleaning solution to soak your dentures to remove calcified deposits. Pay extra attention to the denture housings, which are the colorful circles that lock onto your dental implants. Don't clean the housings too rigorously or you could damage them. Finally, don't forget to clean the dental implants in your mouth after you've removed your overdenture from your mouth.
Give us a call if you have any more questions about how to properly care for your dental implants. Call us at (949)481-2540 or book you appointment online today. Our dentist, Dr. Jazayeri, will review your hygiene routine to make sure that you're properly caring for your teeth. We'll be glad to make recommendations to help you keep your implants healthy and sound. To learn more about cleaning other dental prosthesis, click on the following links: