Table of Content:
Implications of laser in dentistry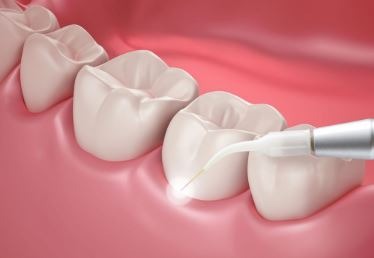 Over the past few years, laser has become more and more useful in dentistry. Using lasers has a few advantages over using a scalpel or handpiece. First off, you can do most laser treatments without using anesthesia. Secondly, laser causes minimal bleeding, which means you can do certain surgeries without worries. There are many ways lasers is used in dentistry. Here are just a few ways dentists use lasers to improve your experience and yield better outcome:
Deep cleaning – Lasers decontaminate deep periodontal pockets by killing disease causing bacteria that reside there
Minor surgeries – You can cut soft tissue lesions without anesthesia or much bleeding
Gum recontouring – Cosmetic dentists use laser to recontour and reshape gums
Fixing small cavities – You can use laser to cut small cavities without having to use anesthesia or a drill!
Bleaching – Laser breaks down peroxide gel to significantly accelerate teeth whitening results
Post-op instructions after receiving laser treatment
Laser is less painful and more forgiving than using a scalpel or drill. Nevertheless, there still is some level of discomfort associated with laser therapy. Here are some things to watch out for in the next few days following your laser treatment:
No smoking for at least 6 hours after laser treatment.
Expect the treated area to be sore and tender for about 2 to 7 days afterward. If needed, take analgesics like Advil, Motrin or Tylenol every 4 to 6 hours to reduce pain and discomfort.
The laser treated area may bleed and remain tender when you clean it. This is normal and should subside within a week. If the area is extremely sore, apply Orajel.
The successful outcome of laser therapy is dependent upon thorough removal of bacteria. Continue brushing and flossing your teeth as you normally would during the healing process, unless instructed otherwise.
It's normal to experience minor hot, cold, or sweet sensitivity after treatment. This is because your tissue shrinks following gum surgery and your root surfaces become exposed. If this happens, try using a fluoride or desensitizing toothpaste throughout the healing process. If sensitivity persists or worsens, call your dentist to have it further evaluated.
You may notice for the first 3 to 4 days that the treated area will be sensitive to hot, spicy and acidic foods. This doesn't mean you can't have these foods, just be a bit more careful.
Use any prescribed medications your doctor gives you as directed.
If you have any more questions about your laser treatment, please call your dentist.