Meet Our Dentist: Dr. Ali John Jazayeri, DDS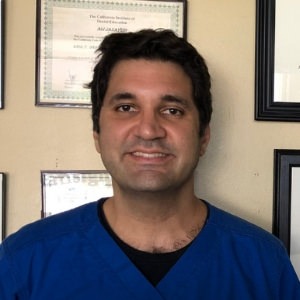 Dr. Ali John Jazayeri has been a dentist for close to 20 years now. He graduated from UCLA dental school in 2005. He obtained General Practice Residency training from St. Barnabas Hospital in New York in 2006. He then completed a one-year Implants Seminar course taught by Dr. Arun Garg. Dr. Jazayeri pushes himself to excel at performing simple and complex dentistry. His philosophy is to restore teeth that are worth saving and replace failing/infected teeth with dental implants.
Dr. Jazayeri places about 300 dental implants each year. Here are some of the main dental implant treatments that Dr. Jazayeri offers his patients:
Single tooth implant
Multiple tooth implants
Implant bridge
All-on-four dental implant
Snap-on-dentures (dentures supported by dental implants)
Dr. Jazayeri particularly excels at performing immediate implant placement. Immediate dental implants are when you have your tooth removed and the implant placed during the same visit. Implant placement spares you from a second surgery. Plus, the best time to place a dental implant is when you remove the offending tooth. This takes advantage of the bleeding that occurs during tooth removal for better implant-jawbone integration (Note: Not all cases qualify for immediate implant placement).
Here are a few other things you should know about our dental implant treatment:
We primarily use Nobel Active implants. Nobel implants are Swedish-designed and made in the U.S.A. Nobel implants have the highest quality titanium. They also have a very aggressive tread design which maximizes bone-implant surface for better initial stability and long-term success rate.
Interested in full Zirconia implants? We also offer Nobel Pearl full Zirconia metal-free implants. Ask us to learn more (Note: the cost of Zirconia dental implants is significantly higher).
Want to improve your smile? Dr. Jazayeri offers complete smile makeover using porcelain veneers. There are many different reasons why patients choose to get their smiles enhanced with porcelain veneers:
You may have crooked, yellow teeth that don't respond to braces/teeth whitening
Your teeth have been damaged over the decades due to grinding, aging,  and other bad habits
You can replace that one snag/yellow/cracked tooth with a single porcelain veneer to restore its looks and function. Or, you can replace your entire upper and/or lower teeth with 6 to 20 porcelain veneers to completely transform your smile.
Dr. Jazayeri has performed hundreds of smile makeovers using porcelain veneers. Here is how we generally restore your smile with porcelain veneers: First, we take an impression of your teeth to perform a mockup. The mockup will show what your final smile is going to look like. You can make alterations to the shape and color of your teeth on the mockup. This way, you can visualize your final smile before we even start working on it. The porcelain veneer process typically takes 2 to 4 weeks. You will be wearing temporaries during the entire time. Once the final teeth are ready, we will try them in your mouth.
Love your new smile? You will receive your porcelain veneers and your new smile is ready to concur the world!
Like them, but not in love? We will send your porcelain veneers back to the lab to alter their appearance until you're in love with them.
You can't place dental implants without extracting teeth first! Dr. Jazayeri performs all of his own tooth extractions (exceptions are risky wisdom teeth which will be referred out). This means that you won't have to go to different dentists or surgeons to remove bad tooth/teeth. In addition to tooth extraction, we also perform tons of bone grafting. We almost always perform bone grafting after tooth extractions. Here's why:
Bone grafts help preserve more of your jawbone. This helps with placing dental implants in the near future.
Bone grafts help significantly with the healing process. Without bone grafts, you're at a much higher risk of developing a painful symptom known as a dry socket.
We use synthetic, animal-sourced (pig, cow, etc.) and cadaver bone graft material. Dr. Jazayeri will review the different types of bone grafts and which is best for your situation. Our default is synthetic grafts, with cadaver and animal-sourced grafts reserved for more complex cases. Please let us know if you have an objection to any of the animal/human-sourced graft material and we will avoid it if possible.
Scared of getting your teeth fixed? We offer a few different sedation options. Nitrous Oxide is available on demand for a nominal fee to help you relax. Oral conscious sedation is reserved for more complex cases such as full mouth treatments, all-on-4, wisdom extractions, etc. General anesthesia is performed with our board-certified anesthesiologists for cases that don't qualify for standard sedation techniques. Inquire about your options for sedation if interested.
We also offer general dental care. This includes dental cleanings, fillings, and crowns. Here's what you need to know about our approach to your general dental care:
We don't push deep cleanings. Most of our patients get a very thorough regular cleaning. We encourage most of our senior patients to come for a cleaning every 3 to 4 months. This ensures that you maintain healthy gums while avoiding painful deep cleanings!
We only offer composite fillings and ceramic inlays/onlays. We do not perform Amalgam fillings due to their potential risk subsequent to heavy metal content (Mercury).
Almost all of our crowns are made from zirconia. We prefer e-max layered zirconia for cosmetic cases (most front teeth). We use Bruxzir solid ceramic for teeth under heavy bite forces (grinders).
Occasionally we perform root canals, dentures, and bridges. We usually prefer dental implants over root canals. Root canals are performed on a limited basis when a dental implant is contraindicated. We also like to give you dental implants instead of dentures or bridges. Bridges and dentures are performed on a limited basis when dental implants are not a viable option. We think that your mouth deserves the best treatment, even if it costs a bit more time and money. Our team will work with you to offer you a treatment that you're 100% satisfied with. We won't make any compromises and offer you and your mouth the best treatment that modern technology permits.