Overdentures: Dentures supported by dental implants
IMPLANT-SUPPORTED DENTURES IN SAN CLEMENTE, ORANGE COUNTY, CA
Oceansight Dental & Implants
Office of Dr. Ali John Jazayeri
106 S Ola Vista
San Clemente, CA 92672
Tel: (949) 481 – 2540
Fax: (949) 481-2544
email: dr@oceansightdental.com
What are implant supported dentures?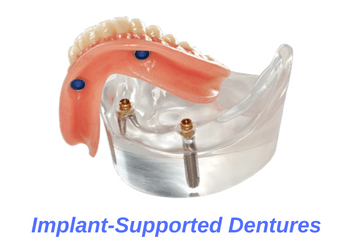 Implant supported dentures, also known asoverdentures or snap-on-dentures, are dentures which anchor onto several dental implants. Regular dentures are only supported by your gum tissue. As a result, they can be loose, uncomfortable and create painful lesions in your mouth. By adding just a few dental implants you can lock your dentures securely in place to improve their fit. The addition of a few dental implants makes your false teeth much more stable and improves chewing capability. Plus, implant supported dentures are designed to be smaller than traditional dentures which further improves your comfort level.
If you're not happy with the fit of your dentures we recommend that you consider implant-supported dentures. To learn more about implant-supported dentures, give us a call at (949) 481-2540 to schedule your consultation. We provide all sorts of alternatives to denture treatment, including overdentures and other implant related treatments. Schedule your consult today to learn more about how you can improve the fit and feel of your teeth with dental implants.

What are the benefits of wearing overdentures as compared to regular dentures?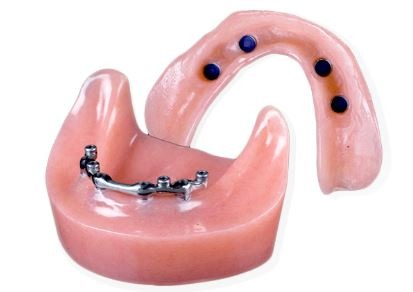 If you're unhappy with your dentures then you should consider options involving dental implants. By adding just a few dental implants you can stabilize your dentures to improve fit and function. Implant-supported dentures offer an affordable solution to improve your denture fit. Treatment is easy, affordable and generally only takes a few weeks or months to complete. Here are some benefits of wearing implant-supported dentures instead of regular dentures:
Enhanced stability & security
A major advantage of implant-supported dentures is their added security and stability. This means that you get to eat and talk more comfortably and with more confidence. Plus, you no longer have to worry about your teeth flying out by accident!
Improved chewing ability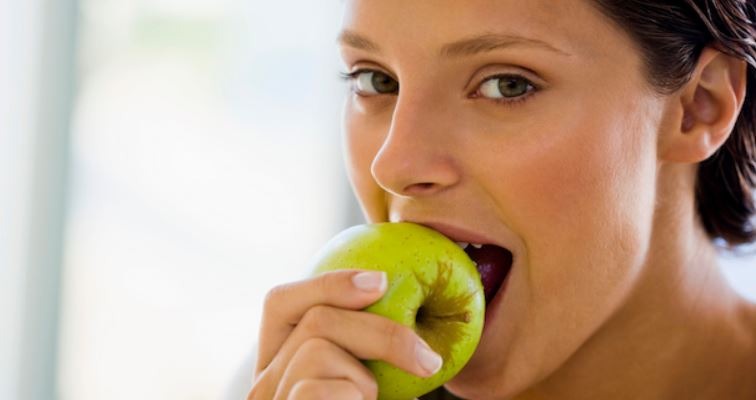 Implant-supported dentures are much more stable than regular dentures so they don't rock as much when you're chewing food. The dental implants act as anchors to fasten and secure your teeth in place. This keeps your dentures from moving and rocking as much when you are chewing. As a result, you can chew better and eat a larger variety of food objects.
Less denture-related complications
Wearing dentures can be a constant struggle for some people. Problems with dentures include:
Dentures require routine maintenance and frequent do overs
They break if you drop them
False teeth loosen over time
The teeth wear flat and lose their chewing capability
Wearing overdentures doesn't resolve all these issues, but it does make your denture feel much more comfortable in your mouth. Adding just a few dental implants makes your false teeth much more comfortable to wear as compared to regular dentures. Overdentures are more stable, which causes less gum irritation and fewer sore spots in your mouth. Plus, with implant-supported dentures, you won't have to worry about using all that annoying denture cream any longer!
Jaw bone preservation
Finally, implant-supported dentures help protect your valuable jaw bone. Losing all of your teeth causes your jaw bone to shrink rapidly. Without teeth, your jaw bone goes into a state of accelerated atrophy, losing bone 3 to 4 times faster as compared to when you had your teeth. By adding just a few dental implants to support your dentures you can reduce the pressure exerted onto your jaw bone. This helps preserve your facial bone structure as you get older, making you feel younger and looking healthier.
What are the different types of implant supported dentures?
Implant-supported dentures consist of a few dental implants and a set of dentures. The only difference in the types of overdentures is the number of dental implants involved in your treatment. In order to support your dentures you require a minimum of 2 dental implants per arch. However, some cases require more than 2 implants in order to stabilize the teeth. There are three common treatment options when it comes to implant-supported dentures:
2 dental implants plus an overdenture
The minimum number of implants required to make implant-supported dentures is two dental implants. These two dental implants will be distributed evenly, one the right and one on the left side, to provide for bilateral support and stability. This treatment option is ideal if you have no more teeth left on the top or bottom and simply want your teeth to be a little more stable. Overdentures supported by two dental implants typically require annual visits to the dentist in order to replace the connector part which holds the teeth in place.
4 dental implants plus an overdenture
Adding 4 dental implants instead of just 2 gives you double the support. This is a better long-term solution for many reason. First off, should one implant or connector become loose you still have 3 more dental implants securing your denture in place. In contrast, with 2 dental implants if anything goes wrong you have to redo treatment. Additionally, with 4 dental implants your dentist can remove the portion of denture covering the roof of your mouth. This can not be accomplished when placing just 2 dental implants as the support from the roof of your mouth is still needed. Of course, adding two more dental implants will add to your costs. Talk to your dentist to decide which option is best suited to your needs.
Implant-supported bar plus an overdenture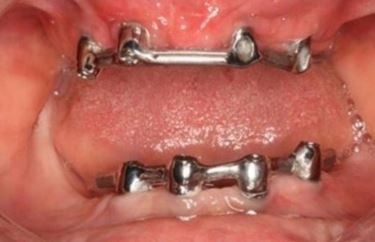 The most stable overdenture is one that comes with a denture bar. Adding an implant-supported bar will significant improve the stability of your denture. Placing a denture bar requires between 4 to 6 dental implants for proper support. Implant-supported bars provide the highest level of stability among all removable denture treatment options. However, adding several dental implants and a denture bar can be very expensive. In fact, the cost of implant-supported bar and overdenture typically approaches that of all-on-four dental implants. It might be a bad idea to consider all-on-four teeth as an alternative to denture-bar whenever applicable.
WHICH IMPLANT-SUPPORTED TREATMENT OPTION IS BEST FOR ME?
It depends on many different factors. Each treatment option offers a varying degree of support and stability but also comes at a different price point. If you live in Orange County and want to explore your options further, give us a call at (949) 481-2540 to schedule an appointment. Come and visit us in our San Clemente, CA office for your consultation. Dr. Jazayeri will access your jaw size, arch curvature, bone quality, bite forces, diet, opposing teeth structure and many other factors. Only then can we determine which implant-supported denture treatment options is best suited to your specific needs.
Implant supported denture treatment in San Clemente, Orange County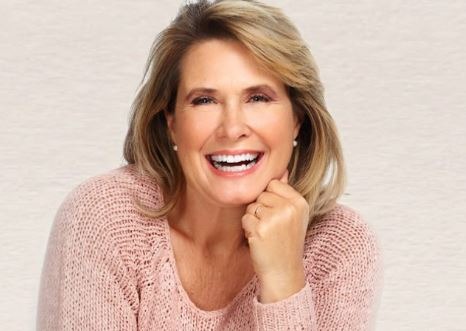 If you'd like to learn more about your options involving implants and dentures, request your complimentary consultation with us today. Call (949) 481-2540 or book your consult online today. Our dentist, Dr. Jazayeri, will present you with a range of suitable treatment options. We will work with you to come up with a treatment plan that suits your needs and fits your budget. So stop struggling with ill-fitting dentures and come in to our San Clemente office today for your consultation. You can also fill out the form below to ask us any questions or schedule your consult today:
Interested in purchasing treatment directly online? Click on the link below to go to my online store now:
To learn more about related implant and denture related topics click on the following links:
Definition of Dental Implant Terminology
Abutment
An abutment is a dental implant component which connects the implant post to the implant crown. Abutments are typically made from metal, although full ceramic options are available as well.
All-on-four dental implants
A full set of prosthetic teeth which is completely supported by four or more dental implants. All-on-four teeth replace all of your missing teeth in each arch with fixed, permanent teeth made from porcelain or zirconia.
Bone Graft
Bone substance used to preserve and restore jaw bone during dental implant treatment. Bone graft comes in many varieties including synthetic bone cadaver bone, animal bone and your own bone.
Ceramic Implant Post
A dental implant post which is made from zirconia instead of traditional titanium alloy. Zirconia dental implant posts are a good option for those allergic to metals or suffering from autoimmune conditions where they don't react well to titanium.
Crown (Implant crown)
A crown is an artificial tooth, consisting of porcelain or ceramic, which covers the implant to resemble a tooth. Crowns function and look like your natural teeth.
CT Scan (or CBCT scan)
A 3-D image of your jaw structure used in implant dentistry. CT scans capture vital structures and your bone thickness to better assist your dentist in correctly positioning your implant posts.
Dental Implant
An artificial tooth which fully replaces your missing tooth. Dental implants typically consist of three parts: Implant post, abutment and crown.
Denture
Removable teeth which replace your missing teeth and supporting gum tissue. There are many different types of dentures based on how many teeth you are missing and where these teeth are located.
Full mouth dental implants
A complex process to replace all of your teeth with dental implants. Full mouth dental implants requires building up your bone and replacing your teeth with 8 to 12 dental implants. The end results is fixed, permanent crowns and bridges fully supported by dental implants.

Healing Cap (Permucosal extension)
An implant part which temporarily attaches to your implant post. Healing caps are typically placed during second stage surgery. They remain in place for a few weeks and allow your gums to properly form around the implant in anticipation of your final crown.
Immediate load
A process by which an implant post receives a temporary crown or denture the same day as it is placed. Immediate load is only recommended for teeth-in-a-day or missing front teeth in those who qualify.
Immediate placement
A process by which your dentist removes your bad tooth and places the implant post in one day. Immediate load is recommended for teeth which don't have extensive bone loss or infection.
Implant dentistry
A branch of dentistry which focuses on restoring your missing teeth with dental implants or implant supported prosthesis. Typically performed by experienced general dentists, periodontists and oral surgeons.
Implant post
A screw-like device which is placed in your jaw bone. Implant posts are usually made from titanium or zircoina. Implant posts are used to support crowns, bridges or dentures.
Osseointergation
A process by which the implant post fuses and locks into your jaw bone. Osseointegration usually takes between 3 to 9 months, depending on the quality of your jaw bone and overall health.
Overdentures
A set of dentures anchored in place via 2 to 4 implant posts or an implant bar. Overdentures are still removable dentures, however, they are more stable since they are supported by a few implant posts.
Second stage surgery
A minor procedure performed after your dental implants complete their osseointegration. Your dentist exposes the implant posts, placed healing caps on them and sutures your gums to allow them to heal properly.
Teeth-in-a-day
A process by which your bad teeth are removed and a set of teeth are inserted into your mouth all on the same day. Teeth-in-a-day is temporarily placed screwed in place while your dental implants continue to heal so that you are not walking around toothless during the recovery period.

Oceansight Dental & Implants
General, Cosmetic & Implant Dentistry
Office of Ali John Jazayeri
106 S Ola Vista
San Clemente, CA 92672