All-on-Four Teeth/ Implants
Topics:
What are all-on-4 teeth?
All-on-four teeth is a set of permanent teeth anchored onto dental implants. It consists of an implant-retained porcelain or zirconia teeth which permanently anchor onto individual dental implants. The bridge itself has about a dozen teeth which anchor onto four or more dental implants. Essentially, all-on-4 teeth replace every single tooth in your upper and/or lower jaw.
Do not confuse all-on-four teeth with dentures or overdentures. All-on-four teeth are permanent porcelain teeth which get locked onto dental implants. They are permanent teeth which don't come in and out of your mouth. All-on-four teeth replace all of your missing teeth and gum tissue within each arch and feel like your own natural teeth.
How do you make all-on-four teeth?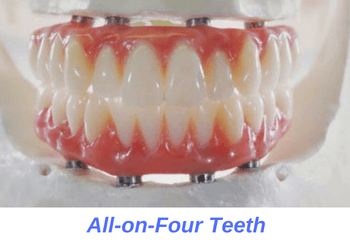 The process of receiving all-on-four teeth starts by placing a minimum of four dental implants. We place these implants in areas with the highest quality bone, typically the chin and nose region. This bypasses the need for extensive bone graft procedures. Once your implants have healed, we secure your permanent bridge on top. Your bridge is screwed onto the implants which permanently locks them in place.

What are the benefits of all-on-four teeth?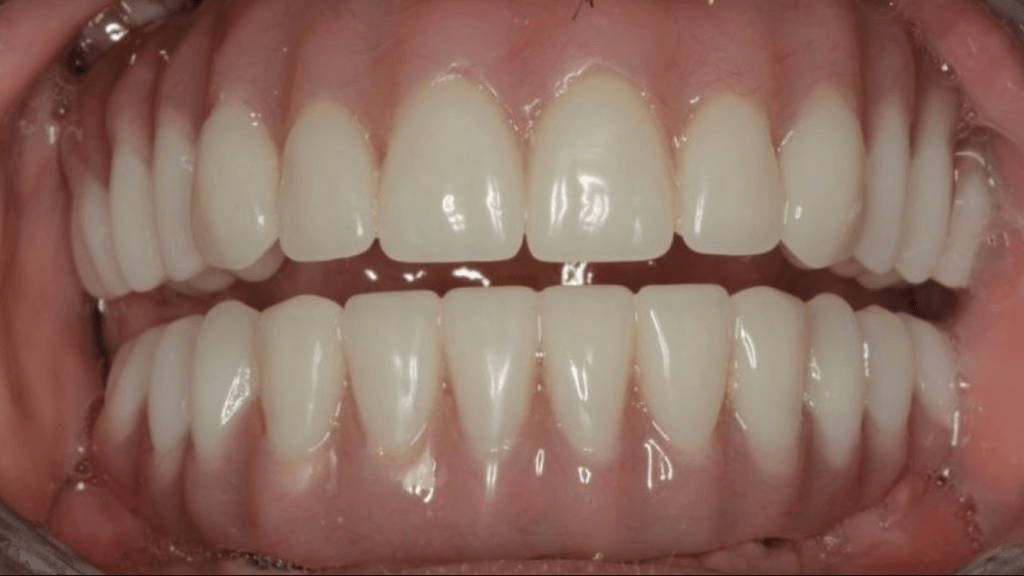 All-on-four teeth is an affordable full mouth dental implant replacement option. The results are as close to having your original teeth back. There are numerous benefits to all-on-4 teeth over traditional dentures, such as:
All-on-four teeth are permanent teeth. This means that your teeth stay in your mouth at all times as if they were your original teeth.
Porcelain and zirconia teeth provide for excellent chewing ability, speech and aesthetic. You can speak and eat as if you had your original teeth back again!
No longer will you have to worry about those annoying cavities, gum disease or dental infection.
Treatment is relatively quick usually taking just a few months.
Getting dental implants helps preserve your valuable jawbone over time. Since dental implants absorb the bulk of your bite stress, this significantly reduces the stress applied to your jawbone. By preserving your jawbone, you will look younger and maintain a fuller, happier facial profile.
Am I a candidate for all-on-four teeth?
Amazingly enough, almost everyone is a candidate for getting all-on-four teeth. This is because we place your implants in areas which have the highest quality bone. As a result, most people qualify without the need for extensive bone graft or augmentation surgeries.
Looking for all-on-4 teeth or full mouth implants in San Clemente?
If you would like to learn more about all-on-four teeth or full mouth implants, schedule your consultation with us today. Call (949) 481-2540 or book your complimentary consult online today. Our dentist, Dr. Jazayeri, will access your jaws using our CT scan machine to determine if you're a good candidate for implant treatment. Don't forget to ask us about our flexible financing options to help you afford your treatment. Don't wait any longer, book your consult with us today and get your smile back in no time!
To learn more about treatments related to all-on-four teeth, click on the following links: