All-on-four dental implants: Fixed, permanent teeth
ALL-ON-FOUR DENTAL IMPLANTS IN SAN CLEMENTE, CA

Oceansight Dental & Implants
Office of Dr. Ali John Jazayeri
106 S Ola Vista
San Clemente, CA 92672
Tel: (949) 481 – 2540
Fax: (949) 481-2544
email: dr@oceansightdental.com
What are all-on-4 dental implants?
All-on-four dental implants are fixed teeth which anchor onto 4 or more dental implants. These are teeth which are permanently fixed in your jaws, similar to your original teeth. All-on-four dental implants consist of two parts. The first is a few dental implants which are placed inside your jaws. The other is an implant-retained porcelain or zirconia set of teeth which are permanently anchored onto your dental implants. If you want to learn more about all-on-four dental implants, we suggest that you call us at(949)481-2540 to schedule a consultation. In addition to all-on-four dental implants we offer onsite CT scans, implant designing software, sedation and teeth-in-a-day option. Come into our San Clemente, CA office and meet us to learn more about how all-on-4 dental implants can help you chew, look and talk better!
Are all-on-4 implants the same as dentures?
Absolutely not! All-on-four teeth are completely different than dentures or overdentures. The biggest difference is that all-on-four teeth are fixed inside of your mouth. They are far superior to dentures and are more comparable to having natural teeth as opposed to removable dentures. Here are some other reasons to choose all-on-4 teeth over dentures:
Fixed teeth replacement
All-on-four teeth are fixed inside of your mouth. The teeth connect to your dental implants and are permanently locked in place. Only your dentist can remove these teeth using specialized instruments. You can't remove all-on-four teeth from your own mouth the same way you remove dentures. This makes them feel much more like having natural teeth.
High quality teeth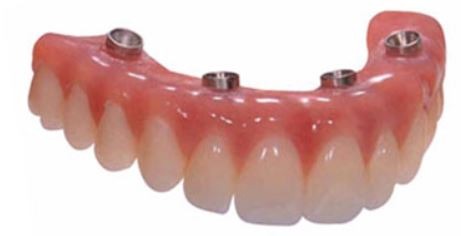 All-on-four teeth are made from porcelain or ceramic. Porcelain and ceramic teeth are extremely durable, natural looking and beautiful. Plus, these teeth last you a lifetime and don't wear flat over time. On the other hand, denture teeth are made from acrylic. As a result, denture teeth become flat over time and lose their chewing efficiency. You don't have to worry about your teeth wearing out with all-on-four teeth the way you do with dentures.
Superior chewing efficiency
All-on-4 teeth give you near the same chewing efficiency as natural teeth do. In contrast, dentures only offer about 25 to 40% chewing efficiency when compared to natural teeth. Dentures move and their teeth are not very effective at chewing food. This is why most denture wearers avoid eating hard food. With all-on-four teeth you can pretty much eat whatever you like.
Long-term preservation of jaw bone & facial muscles
An added benefit of all-on-four teeth is that dental implants preserve your jaw bone. Plus, the porcelain or ceramic teeth maintain your facial muscle position and prevents them from collapsing. Dentures do not help preserve you jaw bone or maintain your facial muscles. As a result, all-on-four teeth makes you look and feel a decade younger when compared to dentures.
Confidence
Lastly,having fixed teeth in your mouth simply gives you more confidence. Having teeth that stay in your mouth is a great feeling, especially after losing your teeth over so many years. You will feel better, look better and exude more confidence with your new all-on-four teeth!
How are all-on-four dental implants made?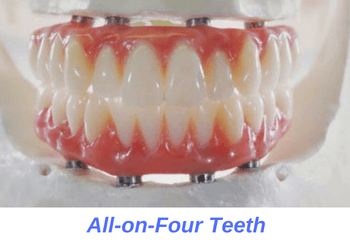 All-on-four teeth involves a dental implant process as well as a restorative process:
Surgical process
Your surgery is typically one visit during which all of your dental implants are place inside your mouth. Your dentist will place these implants in areas with the highest bone density which is typically the chin and nose area. This allows your dentist to bypass the need for extensive bone grafting procedures. After receiving your implants, you need to wait a few months for them to heal. You will have the option of wearing removable or permanent teeth (teeth-in-a-day) during the healing period.
Restorative process
Once your implants have healed, your dentist will make your final set of teeth. Your permanent teeth are made from either porcelain or ceramic. Both porcelain and ceramic teeth are beautiful and strong and your dentist will help you decide which is better for your needs. Once ready, your permanent teeth will be secured onto your dental implants with a few screws. This way, your teeth are permanently locked in place and you can't remove them from your mouth. You can chew, talk and speak as if you had you original teeth back with all-on-four teeth!
What are the benefits of all-on-four teeth?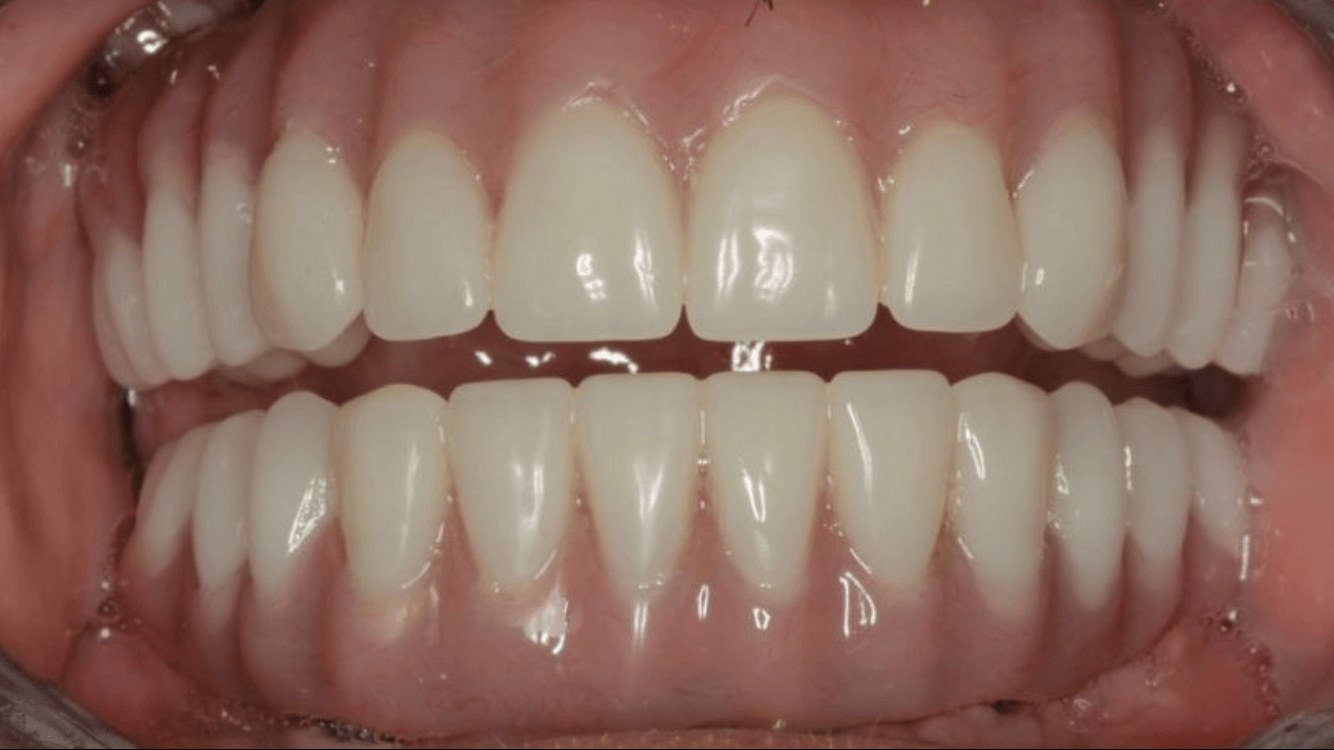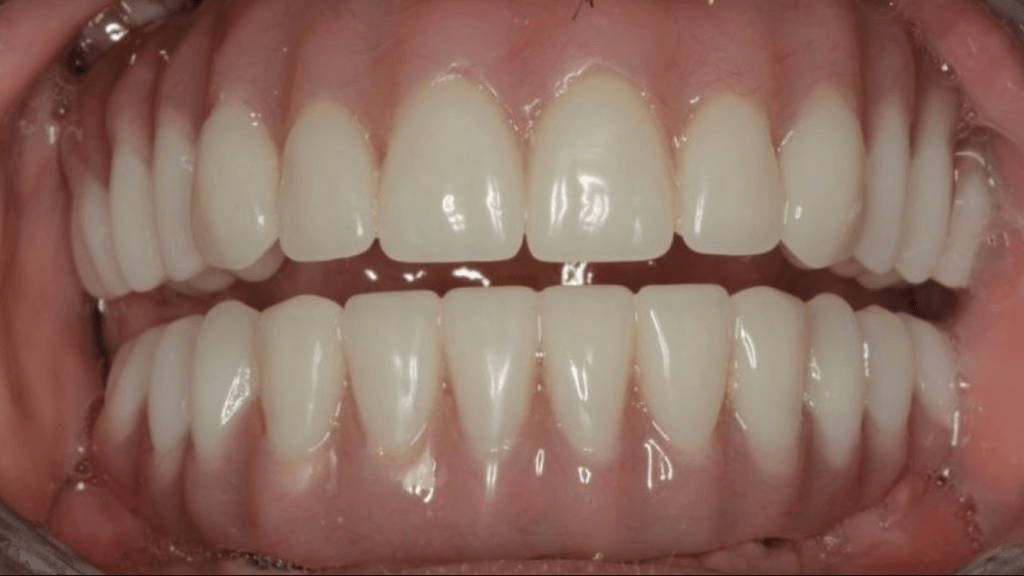 All-on-four teeth are an affordable alternative to full mouth dental implant treatment. Having all-on-4 teeth is as close to having your original teeth back. There are numerous benefits to electing to receive all-on-4 teeth over alternative treatment options, such as:
Excellent results
All-on-four teeth are fixed, permanent teeth which stay in your mouth at all times. The teeth are made from porcelain or ceramic which provides for excellent chewing ability, speech and aesthetics. You can eat, speak and function as if you had your original teeth back. Additionally, the dental implants help preserve your valuable jaw bone and facial muscles over time. The dental implants will absorb the bulk of your bite pressure which significantly reduces the stress applied to your jaw bone. The teeth keep your lips and chin muscles in their current position and prevent wrinkles from developing. By preserving your jaw bone and facial muscles, you will maintain a fuller face and feel much younger!
Minimal maintainence
All-on-four teeth replace all of your teeth with dental implants and porcelain or ceramic teeth. No longer do you have to worry about developing annoying cavities, gum disease or dental infections. Maintaining all-on-four teeth is as simple as it gets. Just waterpik or rinse daily and maintain your annual checkups for routine maintenance. That's it!
Permanent teeth in less time
The all-on-four process has simplified the whole tooth replacement process. Treatment usually takes just a few months whereas full mouth dental implants usually exceeds a year, sometimes two. In fact, you can even receive your a fixed set of temporary teeth on the same day as you get your dental implants (a process referred to as teeth-in-a-day).
Reasonable price
Don't get us wrong, all-on-4 teeth are not inexpensive by any means. Prices for all-on-four teeth range between $15,000 to over $25,000 per arch, which is a significant investment for just about anyone. However, when must consider the fact that you're getting the equivalent of twelve dental implants with all-on-four teeth. If you choose to get individual dental implants you will realize that the cost is double that of all-on-four teeth. You must also take into account replacement costs for dentures as well. Having to struggle with dentures and replacing your false teeth for the rest of your life is not pleasant. A one time investment in fixing all of your teeth could actually be less costly than redoing crowns, root canals and deep cleanings if you are not getting the results you should be!
Am I a good candidate for all-on-4 teeth?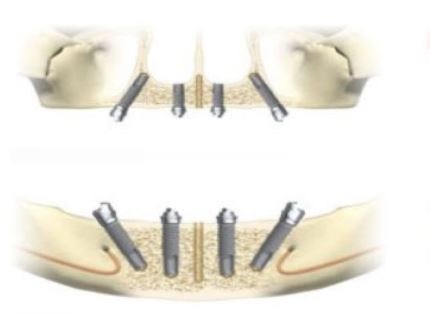 Luckily, 99% of people are good candidates for all-on-four treatment. The all-on-4 technology was developed to avoid extensive bone augmentation techniques. Your dentist will place the 4 required dental implants in your chin and nose region, areas which almost always have sufficient bone for implant placement. These areas have dense bone and almost all patients have enough bone for dental implants in this region. As a result, most people qualify for all-on-four treatment without the need for extensive additional surgeries.
What is the process for all-on-four dental implants?
There are two steps involved in all-on-4 treatment. The first step is placing dental implants and the next is fabricating a permanent set of teeth:
All-on-4 dental implant surgery
The majority of all-on-four treatments rely on 4 dental implants to support your teeth. Occasionally, a 5th and 6th dental implant is added if necessary. Your dental implants will all be placed at the same time during a single surgery. Additionally, if there are broken or loose teeth, these are all addressed during the same surgery. You have to wait about 3 to 4 months for the dental implants to integrate before receiving your final teeth. You will be given the option to wear removable dentures or fixed temporaries (teeth-in-a-day) during the healing period.
All-on-4 teeth

Your final teeth need to be made very carefully to make sure they look and function exactly as you would want them to. Usually it takes several visits to make your final teeth. Your dentist will access your bite, check your lip position, establish your vertical dimension of occlusion, and basically make sure the teeth are perfect for you. Once you and your dentist approve the final teeth, they will be processed to finish. Your final set of teeth are screwed onto the dental implants and remain permanently in your mouth.
How much does all-on-four treatment cost?
All-on-four teeth is not inexpensive. After all, a single dental implant typically costs between $2,500 to $5000 per tooth. You can imagine how much replacing 12 teeth with dental implants would cost! It turns out, all-on-four teeth are actually a bargain when compared to full mouth dental implants. Whereas most dentists charge $25,000 to $50,000 per arch for full mouth dental implants, they typically charge $15,000 to $25,000 per arch for all-on-four teeth. There are a few reasons why all-on-four teeth cost less than full mouth dental implants, for instance:
Less extensive preparation
Most all-on-four treatments can be performed without the need for major bone grafting. On the other hand, most full mouth dental implants require extensive bone augmentation before placing the dental implants. For example, most full mouth dental implant treatments require sinus grafts, block bone grafts, tissue grafts and other extensive preparatory surgeries to buildup your bone and gum tissue. These procedures add significantly to your costs and treatment time as and are very expensive. On the other hand, most all-on-four treatments do not require bone grafting or other augmentation treatments.
Fewer implants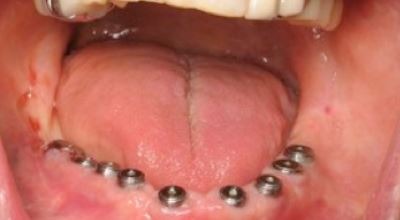 The all-on-four method was developed to simply things. Typically, you only require 4 dental implant posts to replace all of your teeth. On the other hand, full mouth implants require between 8 to 12 dental implant posts per arch. This makes treatment much more expensive and complicated as compared to all-on-four treatment.
Faster results
Typically, all-on-four treatment is completed within 3 to 6 months. In contrast, full mouth dental implants typically take one to two years to complete. This means that with all-on-four teeth you typically get your teeth for an extra year to enjoy. That's a lot of yummy meals that you could miss out on if you don't go with all-on-four treatment.
READY TO GET STARTED WITH YOUR NEW SMILE?
Don't just go to anyone for such an important and complicated procedure. Dr. Jazayeri is very experienced with all-on-four treatment. He has successfully restored hundreds of smiles with all-on-four dental implants. Plus, he offers teeth-in-a-day, where you get to walk out with fixed teeth in your mouth immediately after your surgery. We also offer sedation treatment to help you relax throughout the surgery. To get started, simply give us a call at (949) 481-2540 and schedule your consultation today.
All-on-4 dental implants in San Clemente, Orange County: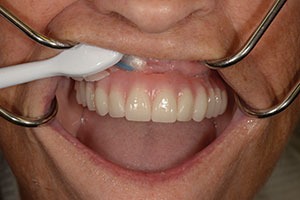 Call us today to learn more about all-on-4 teeth and other implant related procedures. Schedule your complimentary implant consult by calling (949)481-2540 or book your appointment online. Dr. Jazayeri will access your jaw bone to determine if you're a good candidate for all-on-4 treatment. We will present all your treatment options and answer any questions you may have. Additionally, we will review your treatment costs and present you with flexible financing options if you're interested. Don't wait any longer, book your implant consult with us today. You will be surprised at how it is to get the smile of your dreams with all-on-4 teeth! You can also fill out the form below to submit your questions or schedule your complimentary all-on-four consultation:
Interested in purchasing treatment directly online? Click on the link below to go to my online store now:
To learn more about implant related treatments click on the following links:
Definition of Dental Implant Terminology
Abutment
An abutment is a dental implant component which connects the implant post to the implant crown. Abutments are typically made from metal, although full ceramic options are available as well.
All-on-four dental implants
A full set of prosthetic teeth which is completely supported by four or more dental implants. All-on-four teeth replace all of your missing teeth in each arch with fixed, permanent teeth made from porcelain or zirconia.
Bone Graft
Bone substance used to preserve and restore jaw bone during dental implant treatment. Bone graft comes in many varieties including synthetic bone cadaver bone, animal bone and your own bone.
Ceramic Implant Post
A dental implant post which is made from zirconia instead of traditional titanium alloy. Zirconia dental implant posts are a good option for those allergic to metals or suffering from autoimmune conditions where they don't react well to titanium.
Crown (Implant crown)
A crown is an artificial tooth, consisting of porcelain or ceramic, which covers the implant to resemble a tooth. Crowns function and look like your natural teeth.
CT Scan (or CBCT scan)
A 3-D image of your jaw structure used in implant dentistry. CT scans capture vital structures and your bone thickness to better assist your dentist in correctly positioning your implant posts.
Dental Implant
An artificial tooth which fully replaces your missing tooth. Dental implants typically consist of three parts: Implant post, abutment and crown.
Denture
Removable teeth which replace your missing teeth and supporting gum tissue. There are many different types of dentures based on how many teeth you are missing and where these teeth are located.
Full mouth dental implants
A complex process to replace all of your teeth with dental implants. Full mouth dental implants requires building up your bone and replacing your teeth with 8 to 12 dental implants. The end results is fixed, permanent crowns and bridges fully supported by dental implants.

Healing Cap (Permucosal extension)
An implant part which temporarily attaches to your implant post. Healing caps are typically placed during second stage surgery. They remain in place for a few weeks and allow your gums to properly form around the implant in anticipation of your final crown.
Immediate load
A process by which an implant post receives a temporary crown or denture the same day as it is placed. Immediate load is only recommended for teeth-in-a-day or missing front teeth in those who qualify.
Immediate placement
A process by which your dentist removes your bad tooth and places the implant post in one day. Immediate load is recommended for teeth which don't have extensive bone loss or infection.
Implant dentistry
A branch of dentistry which focuses on restoring your missing teeth with dental implants or implant supported prosthesis. Typically performed by experienced general dentists, periodontists and oral surgeons.
Implant post
A screw-like device which is placed in your jaw bone. Implant posts are usually made from titanium or zircoina. Implant posts are used to support crowns, bridges or dentures.
Osseointergation
A process by which the implant post fuses and locks into your jaw bone. Osseointegration usually takes between 3 to 9 months, depending on the quality of your jaw bone and overall health.
Overdentures
A set of dentures anchored in place via 2 to 4 implant posts or an implant bar. Overdentures are still removable dentures, however, they are more stable since they are supported by a few implant posts.
Second stage surgery
A minor procedure performed after your dental implants complete their osseointegration. Your dentist exposes the implant posts, placed healing caps on them and sutures your gums to allow them to heal properly.
Teeth-in-a-day
A process by which your bad teeth are removed and a set of teeth are inserted into your mouth all on the same day. Teeth-in-a-day is temporarily placed screwed in place while your dental implants continue to heal so that you are not walking around toothless during the recovery period.

Oceansight Dental & Implants
General, Cosmetic & Implant Dentistry
Office of Ali John Jazayeri
106 S Ola Vista
San Clemente, CA 92672