Implant Dentistry
Why is implant dentistry so popular?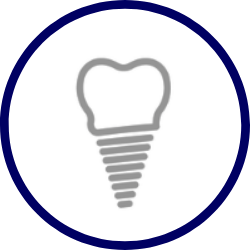 Dental implants are the best way to replace your missing or non-salvageable teeth. With advancements in technology, dental implants have become simple and affordable. Dental implants give you full chewing capability and look like your natural teeth. In fact, you can't even tell an implant apart from your own teeth. Nowadays, implant dentistry has become an integral and essential part of every dental practice.
What can dental implants do for me?
We can pretty much do anything we want in your mouth with dental implants! Dental implants can replace a single missing tooth, multiple missing teeth or even all of your teeth! We can use implants to stabilize your dentures and make them much tighter.
Typically, dental implants last you a life-time. Plus, getting implants does not harm your remaining teeth. Dental implants are easy to clean and look like your natural teeth.
With newer technology, dental implants can be placed in a single day, often times at the same time as pulling your infected teeth. Plus, with so many people getting dental implants, they have become more affordable then ever before. Before you convince yourself that implants aren't for you, give us a call. Consultation is complimentary and we have affordable monthly payment plans available.

Why choose us for your dental implants?
With over 10 years of implant dentistry experience, Dr. Jazayeri is an expert in placing and restoring dental implants. He is trained to place implants in areas where other dentists might be hesitant or unsure of what to do. Dr. Jazayeri excels in all various phases of implant dentistry, including immediate placement, immediate load, sinus grafts, bone augmentation and other implant-related procedures.

How do I get started?
Schedule your appointment with us today to learn more about implant dentistry. We offer complimentary implant consultation and second opinion. During your consultation, we will review your treatment options to help you determine your best course of treatment.
With advancements in technology, almost everyone is a candidate for implants nowadays. Whether you're missing a single tooth, multiple teeth or all of your teeth, we have a solution involving dental implants for you. Additionally, affordable monthly financing is available for those who qualify. Give us a call today and see how dental implants can improve your quality of life!
If you're interested in implant dentistry related treatment, give us a call at (949) 481-2540 or book your implant consult online today. To learn more about different dental implant treatments, click on the following links: