Replace from one tooth to ALL of your teeth with dental implants!
What is implant dentistry?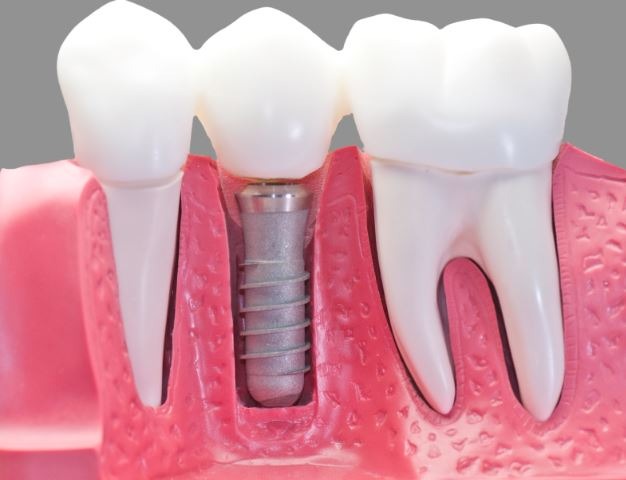 Implant dentistry is the art and science of replacing your missing teeth with artificial teeth. Dental implants allow your dentist to replace missing teeth in areas where there were no other options. Implant dentistry has opened up a new gateway into how dentists can fix and replace missing teeth. Patients are more and more inclined to choose dental implants over dentures and bridges due to the great success rate of dental implants and their longevity. Nowadays, implant dentistry has become an integral and essential part of almost every dental practice. Often times, dental implants can be placed in a single day at the same time as pulling your bad teeth. You can even receive your dental implants and walk out with fixed teeth ALL IN THE SAME DAY!
Before you go convincing yourself that dental implants aren't for you, give your dentist a call. Schedule your implant consultation with an implant dentist who will go over all of your options with you. You'll be surprised at how easy and simple dental implant dentistry has become. So stop struggling and "chewing carefully on one side" and schedule your appointment today and improve your quality of life.
What can implant dentistry offer me?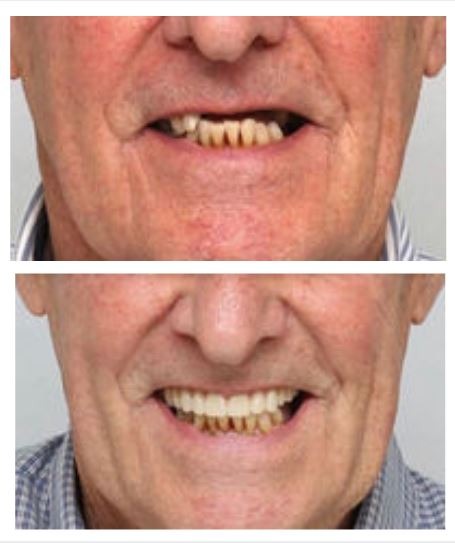 Dental implants are the best way to replace your missing teeth and those which can no longer be saved. Dental implants can replace your missing teeth without harming adjacent teeth. In most cases, you can't even tell dental implants apart from natural teeth. Here are some other reasons why implant dentistry has become so popular:
Dental implants can replace from a single missing tooth all the way to all of your teeth
Your dentist can use implants to stabilize your dentures and make them more comfortable to wear
A well-placed and maintained dental implant will last you a lifetime
Getting dental implants does not harm your remaining teeth the way dentures and bridges do
Dental implants are easy to clean
Implants look and function just like natural teeth do
What are the different implant procedures?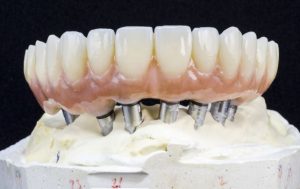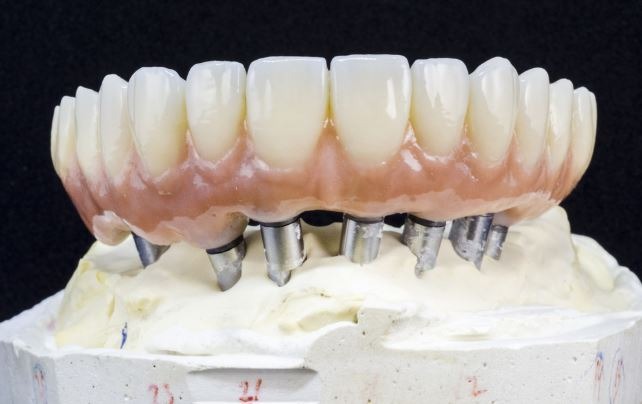 With implant dentistry, you can pretty much replace any missing tooth in your mouth. Whether it's your front tooth, your back tooth, one tooth, or all of your teeth, dental implants can help you replace your missing teeth. Here are some common dental implant procedures which you may come across:
Teeth-in-a-day
The newer generation of dental implants are sturdy and fracture-resistant. This means that your dentist can place your dental implants at the same time as removing the infected teeth. Other times, your dentist might even be able to place the implant post and add a temporary crown at the same time, a process known as teeth-in-a-day. With teeth-in-a-day you can walk into your dentist office with a bunch of broken teeth in the morning, and walk out with a complete set of teeth locked in place the same afternoon! Of course, there are subsequent visit to finish up your treatment, but a skilled implant dentist can give you wonderful temporary teeth on the same day.
Bone augmentation procedures
Nowadays, just about everyone is a good candidate for implant dentistry. You may have heard things like "you don't have enough bone for implants" or "your sinuses are too low to place implants". With advanced bone augmentation techniques, implant dentistry can restore your bone to successfully place implants in just about any region of the mouth. Consequently, just about everyone is a good candidate for implant dentistry with these newer techniques. Schedule your appointment with an implant specialist to learn more about your treatment options.
Implant-supported dentures
Implant-denture hybrids are a great option to improve your denture fit without having to spend a fortune. By placing as few as two to four dental implants, you can anchor your false teeth in place for much improved fit. Your dentures will now attach to these supporting implants which makes them more stable and functional. As a result, you get improved chewing, better speech, less sore lesions, and much better fitting dentures.
All-on-4 teeth and full mouth dental implants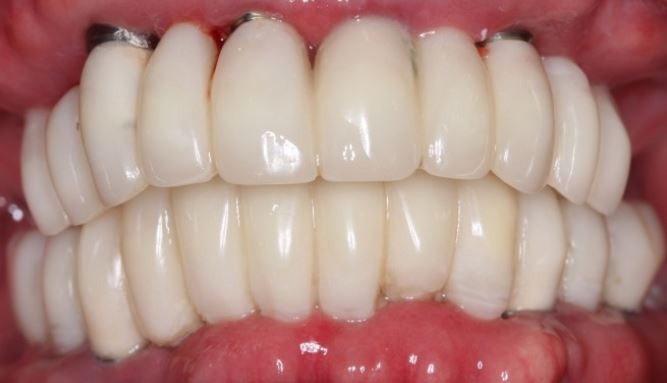 You can now replace all of your missing teeth with dental implants. There are two treatment options for replacing all of your missing teeth with a fixed restoration. The first option is all-on-four teeth and the other is full mouth dental implants. All-on-four is the easier and more cost effective treatment option. Your dentist will place as few as four dental implants to secure a set of fixed porcelain or zirconia teeth on top. Full mouth dental implants is a bit more work and also costs significantly more. For full mouth dental implants, your dentist will place 8 to 12 implants per arch. Then he or she will fabricate crowns and bridges on top of these implants to replace all of your missing teeth.
All-on-four teeth and full mouth dental implants give you a permanent smile. Both options offer permanent, fixed teeth which look and feel like your natural teeth. These teeth never come out of your mouth. You can start smiling and eating as if you'd never lost your teeth in the first place. To learn more about these amazing tooth replacement options, schedule your consultation with an implant dentist near you. Most implant dentists offer complimentary or low cost full mouth implant consultations. The sooner you get your teeth, the more you can enjoy them!
Why choose us for your dental implant treatment?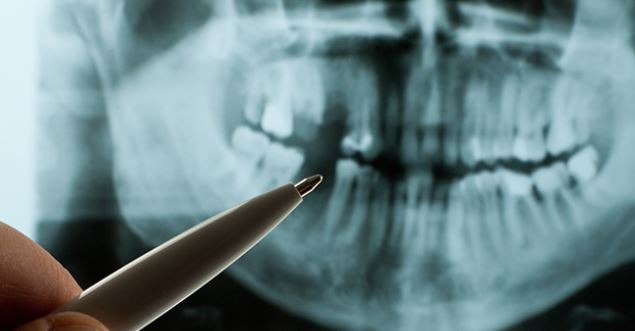 We're proud to say that we're one of Orange County's most trusted choices for implant dentistry. This is because we have the technology and expertise to help you replace your missing teeth with dental implants. Our dentist, Dr. Jazayeri, is an expert in placing and restoring dental implants. He is trained to place dental implants in places where other dentists might be hesitant or unsure of what to do. Plus, we are very competitively priced and we also offer affordable monthly payment plans for those who are interested. To get started, call us at (949)481-2540 or schedule your appointment online today. During your implant consultation we will present all of your treatment options. We will go over everything so that you understand what options are available and what's best for your needs. Call us today and see what a difference it makes to have your teeth back!
Implant dentistry in San Clemente, Orange County: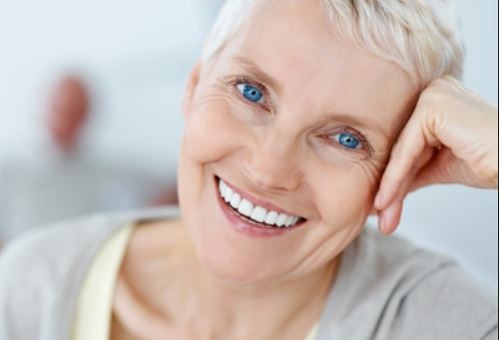 If you're interested in learning more about dental implants, schedule your appointment today. With advancements in technology almost anyone is a good candidate for dental implants nowadays. Whether you're missing one tooth, multiple teeth, or all of your teeth, we can help. We offer complimentary implant consultation as well as no-obligation second opinion. We understand that getting dental implants is a big commitment, and we will do everything to make your experience as pleasant as possible. Don't postpone essential dental treatment any longer! Give us a call today and be amazed at how dental implants can improve your quality of life. To learn more about different implant dentistry procedures, click on the following links:
Definition of Dental Implant Terminology
Abutment
An abutment is a dental implant component which connects the implant post to the implant crown. Abutments are typically made from metal, although full ceramic options are available as well.
All-on-four dental implants
A full set of prosthetic teeth which is completely supported by four or more dental implants. All-on-four teeth replace all of your missing teeth in each arch with fixed, permanent teeth made from porcelain or zirconia.
Bone Graft
Bone substance used to preserve and restore jaw bone during dental implant treatment. Bone graft comes in many varieties including synthetic bone cadaver bone, animal bone and your own bone.
Ceramic Implant Post
A dental implant post which is made from zirconia instead of traditional titanium alloy. Zirconia dental implant posts are a good option for those allergic to metals or suffering from autoimmune conditions where they don't react well to titanium.
Crown (Implant crown)
A crown is an artificial tooth, consisting of porcelain or ceramic, which covers the implant to resemble a tooth. Crowns function and look like your natural teeth.
CT Scan (or CBCT scan)
A 3-D image of your jaw structure used in implant dentistry. CT scans capture vital structures and your bone thickness to better assist your dentist in correctly positioning your implant posts.
Dental Implant
An artificial tooth which fully replaces your missing tooth. Dental implants typically consist of three parts: Implant post, abutment and crown.
Denture
Removable teeth which replace your missing teeth and supporting gum tissue. There are many different types of dentures based on how many teeth you are missing and where these teeth are located.
Full mouth dental implants
A complex process to replace all of your teeth with dental implants. Full mouth dental implants requires building up your bone and replacing your teeth with 8 to 12 dental implants. The end results is fixed, permanent crowns and bridges fully supported by dental implants.
Healing Cap (Permucosal extension)
An implant part which temporarily attaches to your implant post. Healing caps are typically placed during second stage surgery. They remain in place for a few weeks and allow your gums to properly form around the implant in anticipation of your final crown.
Immediate load
A process by which an implant post receives a temporary crown or denture the same day as it is placed. Immediate load is only recommended for teeth-in-a-day or missing front teeth in those who qualify.
Immediate placement
A process by which your dentist removes your bad tooth and places the implant post in one day. Immediate load is recommended for teeth which don't have extensive bone loss or infection.
Implant dentistry
A branch of dentistry which focuses on restoring your missing teeth with dental implants or implant supported prosthesis. Typically performed by experienced general dentists, periodontists and oral surgeons.
Implant post
A screw-like device which is placed in your jaw bone. Implant posts are usually made from titanium or zircoina. Implant posts are used to support crowns, bridges or dentures.
Osseointergation
A process by which the implant post fuses and locks into your jaw bone. Osseointegration usually takes between 3 to 9 months, depending on the quality of your jaw bone and overall health.
Overdentures
A set of dentures anchored in place via 2 to 4 implant posts or an implant bar. Overdentures are still removable dentures, however, they are more stable since they are supported by a few implant posts.
Second stage surgery
A minor procedure performed after your dental implants complete their osseointegration. Your dentist exposes the implant posts, placed healing caps on them and sutures your gums to allow them to heal properly.
Teeth-in-a-day
A process by which your bad teeth are removed and a set of teeth are inserted into your mouth all on the same day. Teeth-in-a-day is temporarily placed screwed in place while your dental implants continue to heal so that you are not walking around toothless during the recovery period.
Oceansight Dental & Implants
General, Cosmetic & Implant Dentistry
Office of Ali John Jazayeri
133 Avenida Granda
San Clemente, CA 92672