Cosmetic Dentistry
What is cosmetic dentistry?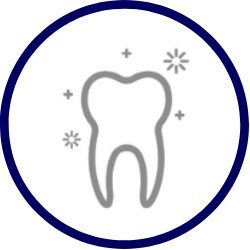 Cosmetic dentistry is the art of beautifying smiles by making your teeth look whiter, straighter and flawless looking. Whether you have chipped teeth, discolored teeth or unsightly gaps, cosmetic dentistry has a solution that fits your needs. Cosmetic dentistry primarily relies on teeth whitening, porcelain veneers and clear aligners to give you the smile of your dreams. To learn more, give us a call today and book your complimentary cosmetic consultation.

Why do we need cosmetic dentistry?
Unfortunately, our teeth start to look worn out and less attractive as we age. After all, we chew 250,000 times a year, which is a lot of chewing. All this chewing puts lots of pressure on our teeth, which damages them. Plus, most of us have bad habits of grinding our teeth, biting hard objects and doing things we're not supposed to, with our teeth. On top of that, consuming foods like coffee, tea and wine causes our teeth to turn darker and yellower. Luckily, cosmetic dentistry has a solution to reverse these damages to bring back your youthful and beautiful smile.
What are common cosmetic dentistry treatments?

Cosmetic dentists primarily rely on using porcelain veneers, clear aligners and teeth whitening treatments. What are these treatments? Here is a bit more about each treatment:
Porcelain veneers are small coverings which protect your damaged teeth and restore their original, youthful shape. Placing porcelain veneers on your teeth instantly gives you a permanently whiter and straighter smile. Veneers shave off years from your appearance and make your teeth look as white and straight as you'd like them.
Clear aligners help move your teeth without the need for braces to give a straight smile. Basically, wearing clear aligners can fix mild-to-moderate teeth crowding, minor overbites and small gaps.
Teeth whitening removes stains within our teeth to make them several shades whiter and brighter. Professional teeth whitening treatment can brighten your smile by several shades to reverse the staining done from drinking all that coffee and tea!
Which cosmetic dentistry treatment is right for me?

With so many different cosmetic treatment options, only you and your dentist can determine what works best for your mouth. Having said that, most cosmetic treatments involve the use of porcelain veneers, clear aligners and/or teeth whitening. However, there are many other cosmetic dentistry procedures such as crown lengthening, gum re-contouring, ceramic crowns and enamel contouring.
To learn more, book your complimentary cosmetic consultation with us today. Call us at (949) 481-2540 or book online to schedule your complimentary cosmetic consultation. Our dentist, Dr. Jazayeri, will discuss all of your options with you and show you how cosmetic dentistry can enhance and restore your youthful smile.
Click on the following cosmetic treatments to learn more about each one: