What is general dentistry?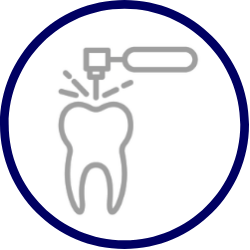 General dentistry is the art and science of repairing broken teeth, fixing cavities and eliminating infection from your mouth. For your convenience, we offer all phases of general dentistry. So whether you need a dental filling, crown, root canal therapy or tooth extraction, we can help fix your problem. We have all the tools, techniques and advanced training to render these treatments seamlessly and with excellent results.

How to I avoid getting root canals, crowns, etc.?
The key to minimizing dental treatment is keeping up with your regular checkup and cleanings. By getting your periodic checkups, your dentist can catch dental problems in their early stages, before they have had a chance to get worse. For example, a small cavity can generally be fixed with a simple filling. However, if you neglect your cavity it will grow and eventually require a crown. From there, the cavity enters your tooth nerve, causing infection. Unfortunately, now your tooth needs a root canal treatment. If still untreated, your tooth breaks and needs to be pulled and replaced with a dental implant. As you can see, the sooner you address your essential dental problems, the easier it is to fix them.

Regular cleaning and checkups help maintain your beautiful smile for life so you don't have to spend endless hours in the dental chair! Having a dentist that you visit regularly is the key to maintaining healthy teeth and gums. To learn more about various general dentistry procedures such as fillings, crowns and root canals, book your appointment with us today. Our dentist, Dr. Jazayeri, will review your treatment and present different options that are going to work for your teeth.
To learn more about different general dentistry treatments, click on the appropriate link:
If you're in need of general dentistry in San Clemente area, be sure to give us a call at (949) 481-2540 or book an appointment online. We offer a range of general dentistry treatments including fillings, crowns, dentures, root canals and tooth extractions. Schedule your appointment today and see how easy it is to have healthy teeth and gums again!