Topics:
What is a nightguard?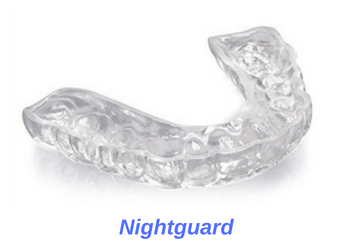 A nightguard is a prosthesis which sits on top of your teeth to protect them against nighttime grinding. Nighttime teeth grinding is typically the result of daytime stress. This stress causes us to subconsciously grind our teeth while asleep. Wearing a nightguard helps protect your teeth and jaws against these unwanted stress.
Do I need to wear a nightguard?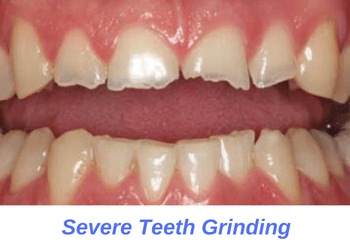 If you grind your teeth at night times, then you should consider wearing a nightguard. Wearing an nightguard is the best way to protect your teeth against wear-and-tear damage of grinding. It protects your teeth from cracking and needing root canals, crowns, etc. Heavy grinding can also damage your TMJ and lead to headaches. Wearing a nightguard protects your TMJ which can reduce these tension headaches.
Do I need a custom made nightguard?
You can either make your own nightguard or have your dentist make you one. This depends on how heavily you grind your teeth and how much damage you've already done to your teeth and TMJ. More advanced teeth grinders should definitely wear a professionally fabricated nightguard. Here are some examples of cases where you should wear a professional occlusal guard:
Heavy Tooth Grinders: Over-the-counter guards are not as effective in protecting your teeth and jaws if you're a heavy tooth grinder. Consider having your dentist fabricate you one as custom guards are much more effective.
Extensive Existing Dental Work: If you have multiple dental implants or extensive crown and bridge work, you should wear a custom guard. By wearing your guard at nights, you protect your existing crowns and also reduce the wear they exert onto opposing teeth.
Frequent Headaches: If you experience frequent headaches, these may be caused or exacerbated by nighttime grinding. Consider wearing a custom occlusal guard if you suffer from frequent headaches. You custom guard protects your TMJ and can help reduce or eliminate tension headaches.
Do you need help with teeth grinding in San Clemente?
If you're located in or near San Clemente, then give us a call at (949) 481-2540 or book your consultation online today. Our dentist, Dr. Jazayeri, will examine you for symptoms of teeth grinding. We can fabricate you a highly quality occlusal guard that is both comfortable and effective. Don't delay treatment, damage from teeth grinding is going to cost you much more than a simple nightguard would!