What is preventive dentistry?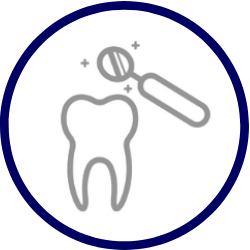 Preventive dentistry focuses on stopping cavities and gum disease from developing in the first place. After all, why wait for teeth to go bad before fixing them? Not only is preventive dentistry easier than invasive dentistry, but it is also less costly and less painful. Plus, getting preventive dental treatment pays off over the long run by maintaining healthy teeth and gums as we get older.
What are some common preventive dental treatments?
Regardless of your age, there's a preventive dental treatment that suits your needs. Here are some examples of common preventive treatments we offer our patients:
Preventive Treatment for Children: For children, we recommend placing dental sealants on permanent teeth. Placing sealants reduces chances of your teeth developing cavities and requiring fillings. As a result, sealants can protect your teeth from a lifetime of invasive dental treatment.
Preventive Treatment for Adults: When you're in your twenties and thirties, getting regular dental cleanings helps you maintain strong, solid teeth. By getting regular dental cleanings and keeping your gums healthy in your youth, you get to have healthy teeth in old age.
Preventive Treatment for Seniors: Even seniors can take advantage of preventive dentistry to improve their oral health. Treatments such as oral irrigation, wearing a nightguard, addressing dry mouth and restoring your missing teeth, all help protect your teeth and jaws during your golden years.
If you are interested in receiving preventive dental treatment in San Clemente, give us a call at (949) 481-2540 or book an appoitnment online. We will examine your teeth and offer preventive solutions to help protect your teeth and gums. If you'd like to learn more about different preventive dentistry treatments, click on the links below: