How do dentists whiten your teeth?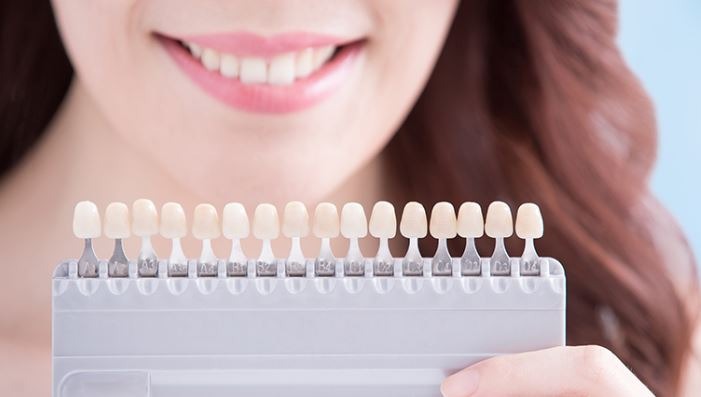 Dentists use high concentration peroxide solution to perform accelerated teeth whitening treatment. There are many different types of teeth whitening brands including Zoom!® , Boost® and KöR® to name a few. All teeth whitening products work the same way, by directly applying a high concentration of carbamide peroxide or hydrogen peroxide to your teeth. Once applied to your teeth, these bleaching gels release peroxide which penetrates deep into your teeth surfaces. Peroxide breaks down internal teeth stains to help whiten teeth and brighten your smile.
What is a typical in-office whitening session?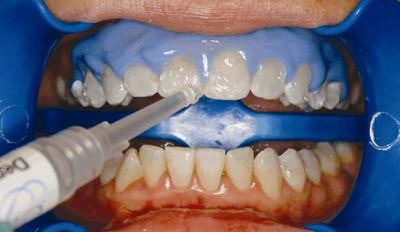 Before starting your whitening treatment, your dentist will perform a thorough exam. It's important to make sure that there are no major obstacles to teeth whitening. For example, if there are fillings on your front teeth or exposed sensitive roots, these may need to addressed prior to bleaching your teeth. Also, your dentist needs to make sure that your teeth are nice and clean. If your teeth are covered with plaque and tartar then the bleaching gel won't be effective. As such, you may have to get a dental cleaning before starting your whitening treatment. Most whitening treatments are completed during a single session. Treatment usually takes between 45 minutes to an hour, depending on which system your dentist uses.
To begin your whitening treatment, your dentist will first isolate your teeth. This is done by placing a barrier right where your teeth meet the gums. Keep in mind, the whitening gel that your dentist uses is very, very strong. Your gums need to be isolated so that the gel does not contaminate the gums. After isolating your gums, the bleaching gel is applied evenly to all teeth surfaces planned for whitening. Typically, this includes the visible surfaces of your front 6 to 10 teeth. Since your molar teeth are too far back, they are almost never included in whitening treatments. Now just sit back and relax while the whitening gel takes effect and brightens your smile!
Why are whitening procedures at the dentist more effective?
There are several reason to have your teeth whitening done by your dentist. Here are a few reasons you generally get better results with your dentist as compared to other bleaching methods:
Stronger bleaching gel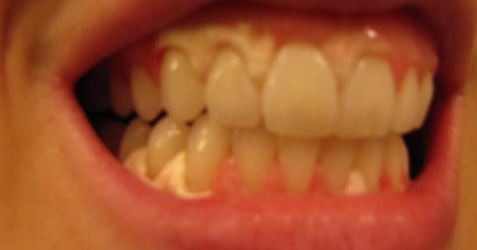 At home whitening products use a concentration no higher than 16% carbamide peroxide (or its equivalent in hydrogen peroxide). On the other hand, dentists are allowed to use concentrations as high as 40% carbamide peroxide. At home whitening products are not allowed to use such high concentration of peroxide due to its high risks. Highly concentrated peroxide can damage your teeth and gums causing extreme sensitivity or gum inflammation. Occasionally, these side-effects are permanent and never improve. This is why professional whitening gels should only be applied by an experienced professional.
Faster and better results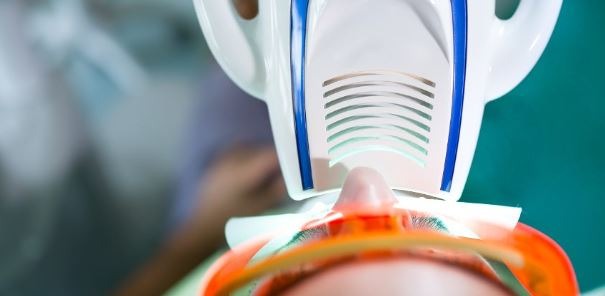 Using a high concentration peroxide gel means you get faster and better results. Additionally, most teeth whitening systems use a light source to improve the outcome. The light source, which is either an LED, halogen or plasmaarc light, is used to break down the whitening gel into its active ingredients. Using a light source helps speed up gel activation for speedier and more effective results. Note that you will be given protective googles to wear if your whitening system does use such a bleaching light.
Treatment in a controlled environment
The fact that you have your dentist administering the whitening treatment can be beneficial for many reasons. First off, your dentist can help you determine if you're a good candidate for teeth whitening. Certain teeth shades and discolorations don't do as well with traditional whitening procedures. Also, your dentist can examine your teeth to see if there are any fillings or crowns which could interfere with the bleaching results. Your dentist can look for sensitive teeth areas and cover them with a protective barrier. Finally, your dentist can monitor your treatment to make sure you don't end up with tooth sensitivity. If you do end up with some tooth sensitivity, he or she can assist you in ways to reduce the tooth sensitivity quickly.
How much does teeth whitening at the dentist cost?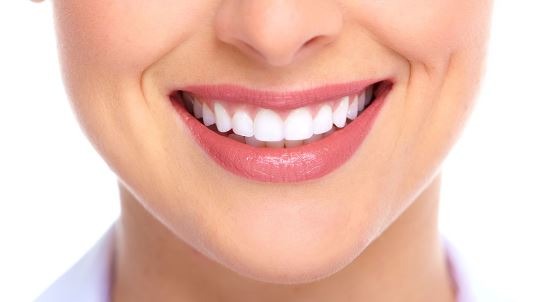 Teeth whitening at the dentist costs anywhere from $100 to upwards of $1,000. The most important factor in determining the cost of your whitening treatment is the brand of bleaching product your dentist uses. The best whitening products such as Zoom!® and KöR® are very expensive so expect to pay a premium for these whitening treatments. The less expensive brands are not nearly as effective as the better ones and are generally not worth it.
If you're looking for a dentist who performs teeth whitening, you won't have to look too far. Almost all general dentists offer some type of teeth whitening treatment. You can always go online to see who is running a whitening special near you. Typically, if you have a dentist that you've been going to regularly, he or she will probably offer you the best deal on your whitening treatment. To learn more about teeth whitening in Orange County give us a call at (949) 481-2540 or book your appointment online today.