Porcelain Veneers
Topics:
What are porcelain veneers?
Porcelain veneers are thin coverings your dentist places on top of your front teeth to restore their youthful appearance. Dentists use veneers to correct many imperfections such as cracked teeth, deep stains, minor gaps and tooth discolorations. By placing veneers on your teeth, you can reverse damage done to your teeth over the years. In fact, porcelain veneers are one of the most frequently used treatments in cosmetic dentistry.
What are the benefits of porcelain veneers?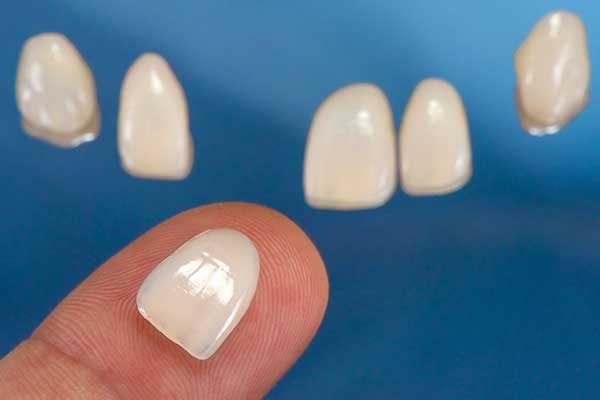 Porcelain veneers are custom made to enhance and beautify your smile. Since veneers are very thin, similar to a contact lens, they preserve more of your own tooth structure. Since veneers are made from high-quality ceramics, there is no unsightly metal to create a mismatch. As a result, they perfectly match your natural teeth and blend in beautifully to enhance your smile.
Should I get porcelain veneers?
This is a personal question that only you can answer. If you're looking to get a Hollywood smile, then most likely the answer is yes. But not everyone gets porcelain veneers just to have a perfect smile. Many of us have yellow, stained and broken teeth due to wear-and-tear, grinding and other damaging forces. Porcelain veneers may just be the solution to fix these damaged teeth while enhancing their beauty at the same time.
How many porcelain veneers do I need?
The number of veneers you need to restore your smile depends on your specific needs:
You may only have a single front tooth which was chipped or discolored. In these cases, a single veneer typically solves your problem.
There might be a small gap between your front two teeth that you want to close without going through braces. Typically, placing two to four veneers closes these minor gaps and beautifies your smile.
You might have several front teeth which have cracked and stained due to poor diet, teeth grinding or aging. These cases require multiple veneers, typically 6 to 10 of them. By placing multiple veneers, you can bring back the white, straight smile which you've been missing.
To learn more about porcelain veneers or see if you're a candidate, give us a call today. Call (949) 481-2540 or book your cosmetic consultation online today. During your consultation our dentist, Dr. Jazayeri, will explain everything you need to know about cosmetic veneers. We will access your smile to see how we can help you achieve the smile of your dreams. Come in today and discover how cosmetic dentistry can change your smile and life forever!
To learn more about other related cosmetic dentistry procedures, click on the following links: